Sorry, this entry is only available in
Albanian
.
For the sake of viewer convenience, the content is shown below in the alternative language. You may click the link to switch the active language.
Hapi i pare i cdo projekti inxhinierik civil eshte njohja e terrenit/mjedisit ne te cilin shtrihet objekti ne fjale.
Rilevimi Topografik perben nje nga shtyllat kryesore te projektimit. Kerkesa per te pasur nje model terreni digjital sa me te ngjashem me relievin real ka bere qe teknologjite topografike te ecin me hapa gjigande. Kompania jone, nderthur teknologjite me moderne te studimeve topografike me eksperiencen disavjecare te inxhinierave tane ne kete fushe per mare si rezultat nje version digjital te terrenit.
Inxhinierët tanë, kryejnë rilevime inxhinierike nga tre njësi fizikogjeografike/fiziologjike të terrenit:
NGA TOKA
Rlilevime klasike me paisje GNSS dhe Total Station
Rilevime topografike
Rilevime kadastrale
Ngritje bazamentesh gjeodezike
Skanimi i objekteve dhe krijimi i PointCloud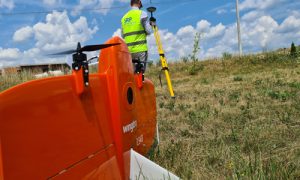 NGA AJRI
Survejimet me dron janë e ardhmja e rilevimeve inxhinierike.SRPAE ka realizuar mbi 70 km2 rilevime fotogrametrike.
Ortoimazheri
Krijimi i DTM dhe DSM
Skanimi i objekteve, krijimi i PointCloud/ 3DMesh
NE UJE
Përveç metodave klasike te batimetrisë (me varka) kompania jonë ofron survejime batimetrike me drona uji.
Batimetri
Krijimi i modelit 3D me Multi BEAM
---
Referencat Tona ne Rilevime inxhinierike
Më Shumë